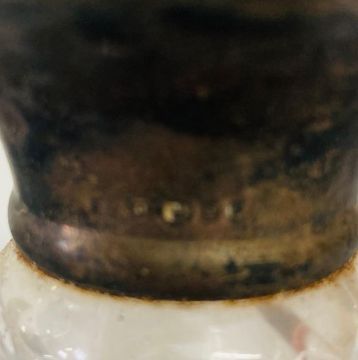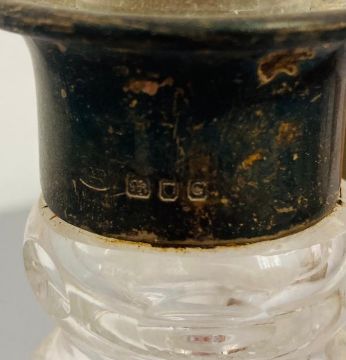 Click on the image to see full size
Use mouse wheel or two fingers to zoom in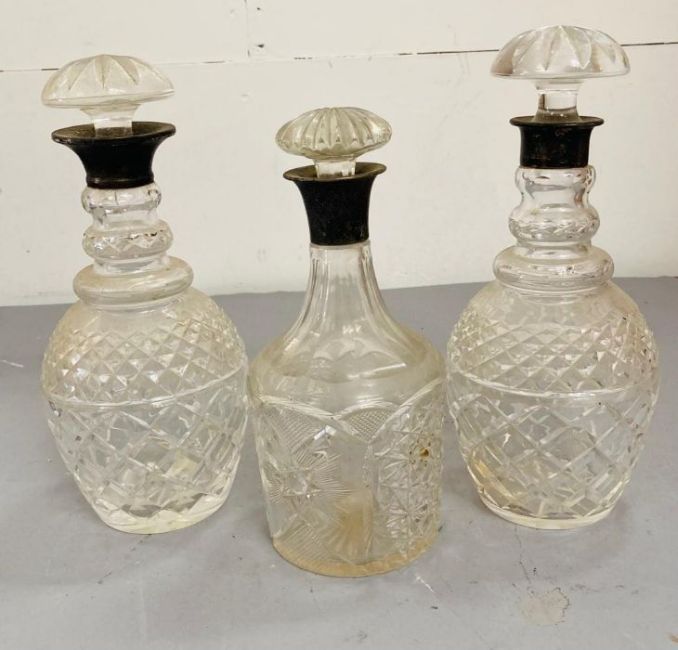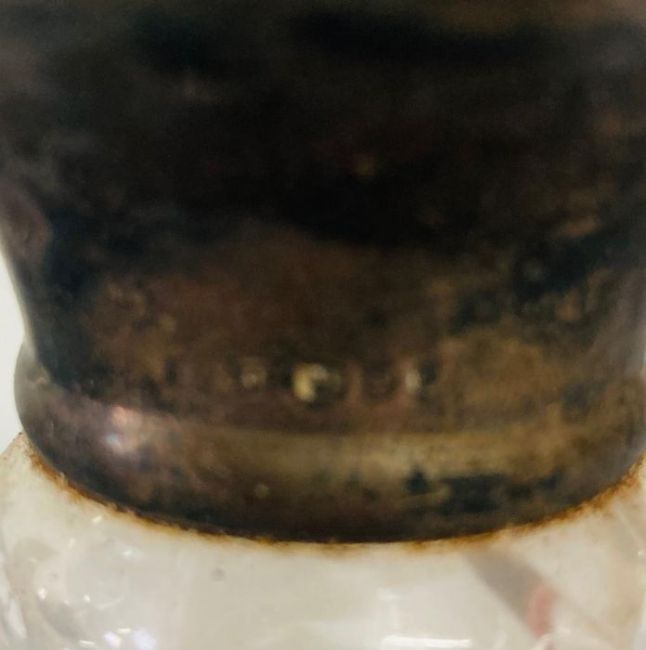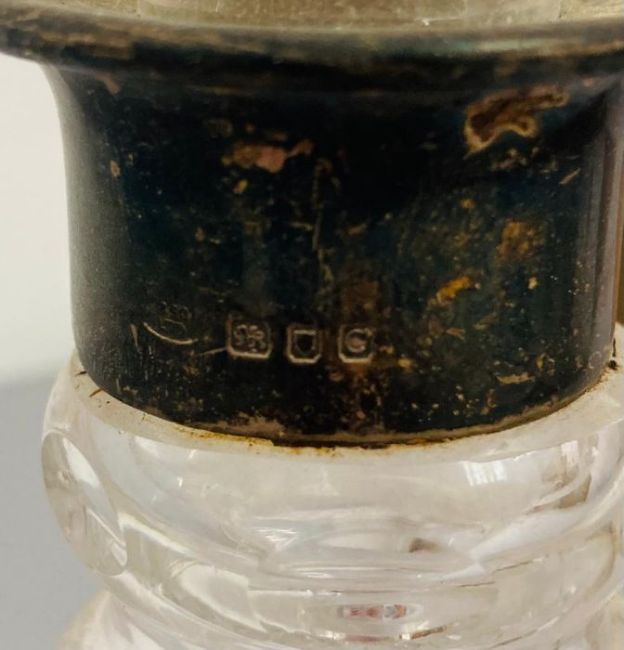 Live auction
Lot closed
Lot location
Windsor, Berkshire
Three silver necked glass decanters.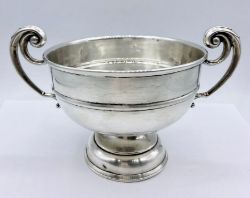 Venue address
Unit 18B
Vansittart Estate
Windsor, Berkshire
SL4 1SE
United Kingdom
Antiques, Collectables and Interiors Sale
Auction dates
Aug 21, 2021 10:30 AM BST
Viewing dates
Aug 19, 2021 10:00 AM - 04:00 PM BST
Aug 20, 2021 10:00 AM - 04:00 PM BST
| | |
| --- | --- |
| Auction currency | GBP |
| Accepted cards | |
| Other payment methods | |
Please arrange shipping and removal by Friday 27th August.
Terms and Conditions for Buyers
(Terms and Conditions for Vendors are available on request)
1. Prospective purchasers are advised to read thoroughly and ensure they understand our Terms and Conditions.
2. The highest bidder shall be the purchaser, should any dispute arise between the bidders or any mistake be made, the auctioneer may either declare the purchaser or put the lot up again.
3. The advance in the bidding shall be regulated by the Auctioneer, but in any event the minimum bid accepted shall be £1.00 (One Pound).
4. The Auctioneer, who will be the sole arbiter in the matter of any dispute or mistake, reserves the right to refuse any bid, or bid on behalf of the Vendor, in the case of any lot or lots (on which there is a reserve) or to withdraw, consolidate or divide any lot or lots with regard to the position of same in the catalogue.
5. Each and every lot shall, upon the fall of the hammer, be at the sole risk of the Purchaser, and in any case, no lot or lots may be removed until the sale slips have been checked.
6. DESCRIPTIONS. The lots are sold `as they lie` with all faults and errors in description, quantity or measurement (if any). Lots may be new, used, refurbished or not, working or broken, soiled, damaged, incomplete etc. boxed goods may not contain any relevant books, manuals, disks, leads, etc. and/or might contain different colours/models/or even different products. We recommend that buyers do not bid unless they have examined lots to their satisfaction prior to doing so - IF IN DOUBT DO NOT BID.
7. When describing lots, finishes are sometimes referred to in the description. These are for guidance only and may not be accurate, e.g. an item may be described as `light oak` when in reality it is in fact `beech`. When mentioning wood finishes, apart from the possibility that the type of wood is incorrectly described, it may also be the case that the item is not solid wood but is veneered, or even that it is not wood at all. Bidders are recommended to examine all lots prior to bidding, to make their own assessments as to the construction and nature of materials and to bid accordingly.
8. When selling lots involving quantities of a product, it is possible that there is a variation in colour, style or model between the different items comprising the lot, (which may or may not be pointed out in the catalogue) and buyers are urged to check prior to bidding.
9. Before bidding please bear in mind that all quantities, descriptions, sizes and other information are approximate estimates only. Items lotted for sale are not always checked/counted/measured by us, and additionally, typing errors sometimes occur. Bidders are recommended to check lots for accuracy, make their own assessments, and adjust their bids accordingly. No allowances will be made for shortages. Lots are sold `as seen` - what you see is what you buy.
10. It is important that you check each item that you intend bidding on prior to bidding. If you are in any doubt, please do not bid. What you buy is what has the Windsor Auctions white lotting up label on it, regardless of the description in the catalogue.
11. All descriptive statements contained in the advertisement or catalogues or made by the Auctioneers or any member of our staff, before or at the time of the sale are to be taken as expressions of the Vendors or Auctioneers opinion, and not as warranties, and no warranty of any kind is to be implied, and it shall be assumed that the purchaser has inspected the lot he buys, and in the event no compensation shall be paid for the same.
12.WINDSOR AUCTIONS act as Agents only, and neither they nor the Vendor is responsible for any faults or defects in any lot or the correctness of any statement contained in the catalogue, advertisement or brochures of the sale or forthcoming sales.
13. All lots must be paid for on the day of the sale and cleared from the salerooms within 48 hours of the sale, and if any purchaser shall fail to comply with this condition and the lot or lots are not cleared within the time specified, they shall be sold at Public or Private sale and the deficiency (if any) together with all charges attending same shall be made good by the defaulter at this present sale. Any profit resulting from such re-sale (if any) shall belong to the Vendor.
14. In order to avoid confusion, no lot or lots can be transferred in any circumstances and the bidder, whether buying for you or for a third party shall be entirely responsible for the payment of lot or lots purchased.
15. CHEQUES. The Auctioneer reserves the right to refuse any cheques; it is therefore STRONGLY ADVISED that the purchaser unknown to the Auctioneer should check before buying as to payment.
16. BUYERS SLIP & NUMBER. The Purchasers on their arrival must complete a `Buyers Slip` and obtain a `Buyers Number` and hand it to the Auctioneer`s clerk prior to their first purchase. It is imperative that each Purchaser, whether known or unknown to the Auctioneer completes this form, and your co-operation is appreciated.
17. BIDS. Purchasers unable to attend the sale may leave commissions with the Auction House. Instructions to Bid are carried free of charge and are strictly confidential. Special forms are available for such commissions, and only commissions on the specified forms can be accepted by the Auctioneer.
18. COLLECTION. LOTS NOT COLLECTED WITHIN 48 HOURS AFTER THE SALE WILL BE SUBJECT TO A STORAGE CHARGE OF £3.00 PER LOT PER DAY - NO EXCEPTIONS.
19. Purchasers buy lots where they lie and must bring any necessary labour, lifting tackle and equipment in order to remove their lots. Porter staffs are NOT available to assist, only to supervise. We do not provide trolleys or lifting equipment. The Purchaser shall comply with any directions with respect to the removal of goods, which may be given by the Auctioneers` staff.
20. SMOKING. No smoking is permitted anywhere upon the premises.
21. SHORTAGES. There will be no allowance made for any shortages.
22. BEWARE. At the fall of the hammer the security of the lot is the purchaser`s responsibility. The Auctioneer will not be responsible if lots are lost, stolen, damaged or destroyed - they are at the sole risk of the Purchaser.
23. BUYERS PREMIUM. A Buyer`s Premium of 18% or £1.00, whichever is the greater, (PLUS VAT) is added to the hammer price on all auctions lots.
24. VALUE ADDED TAX (VAT). All lots marked with `*` are subject to VAT on the hammer price. Buyer`s Premium is always subject to VAT.
25. COLLECTION OF LOTS PURCHASED. Please ensure you only take the lot number listed on your invoice and not a similar lot, as this causes confusion.
Special Online Terms & Conditions
Buyers Premium
•All Lots are subject to Buyers Premium of 18% + VAT on Hammer
•the-saleroom.com Premium of 4.95% + VAT
All Lots are subject to 20% VAT on the Hammer Price where applicable.
Payments and registration
•I-Bidders must register with i-Bidder to Bid
•All purchases made must be paid for and collected within 5 Working Days of the end of the Auction
•Payments will be made at Windsor Auctions, 18 B Vansittart Estate, Windsor, Berkshire SL4 1SE
Windsor Auctions do not accept payment over the phone, please do not bid unless you are prepared to pay by bank transfer or being present at the saleroom after the slae with debit card or cash. We prefer payment by Bank Transfer.
•The Lot(s) will not be released until payment is received and/or cleared through our Bank Account.
•The buyer is responsible for the cost of removal of purchased lot
Collection
•The Lots may not be removed from Site without prior payment being made and on production of a valid Windsor Auctions Invoice when collecting.
•All purchases made must be paid for and collected within 5 Working Days of the end of the Auction
ONLINE ONLY TIMED AUCTIONS
These following terms are applicable only to sales conducted online only and are to be used in addition to the conditions of sale.
1.Right to Cancel. If you are a consumer resident in the European Union you have the right to cancel the contract for the purchase of a lot within 14 calendar days without giving any reason.
i. The cancellation period will expire after 14 calendar days from the day on which you acquire (or a party nominated by you and is not the shipper) physical possession of the lot.
ii. To exercise the right to cancel, you must inform us of your decision to cancel this contract by a clear written statement (e.g. a letter sent by post or email). The communication must be received within 14 calendars days from the day on which you acquire the lot.
iii. If you cancel the contract, we will reimburse all payments received from you. As Windsor Auctions are unable to provide a postage or packing service, the cost of the initial delivery or collection is not returnable. In addition the cost of returning the item if you choose to cancel the contract is payable by you.
iv. We may make a deduction from the reimbursement for loss in value of any goods supplied, if the loss is the result of damaged caused by unnecessary handling whilst in your possession. We will make the reimbursement without undue delay, and not later than:
(i). 14 calendar days after the day we receive back from you any goods supplied, or
(ii). (if earlier) 14 calendar days after the day you provide evidence that you have returned the goods. iii. We will make the reimbursement using the same means of payment as you used for the initial transaction, unless you have expressly agreed otherwise; in any event, you will not incur any fees as a result of the reimbursement. We may withhold reimbursement until we have received the goods back or you have supplied evidence of having sent back the goods, whichever is earliest.
2. Liability. Windsor Auctions nor the seller will be responsible to you for errors during or after the online only timed auction or failures to execute bids placed on the internet or on your mobile device, including, without limitation, errors or failures caused by:
i. any loss of connection to the auction being conducted online;
ii. a breakdown or problems with the online bidding software or the website service provider; and/or
iii. a breakdown or problems with any internet connection, computer, mobile device or system
We would ask that payment and removal/shipping arrangements for successful lots are made by the 27th August.
Please be aware that our telephone lines do get busy so please leave a message and we will come back to you.